The summer of 1927 must have been very frustrating for Tom and Frances, the owners of Gay Mill and builders of the radio station. Two days after the application for a license was filed February 21, President Coolidge signed the Radio Act of 1927 aimed at clearing up the "radio chaos" that existed in America; stations had been fighting for air wave in intense competition. Johnson, accompanied by his son, appeared before Radio Commission on August 3 to plea for their license, which was opposed by WWAE and WSBC, Chicago stations; WWAE would later become WJOB in Hammond, but more about that later.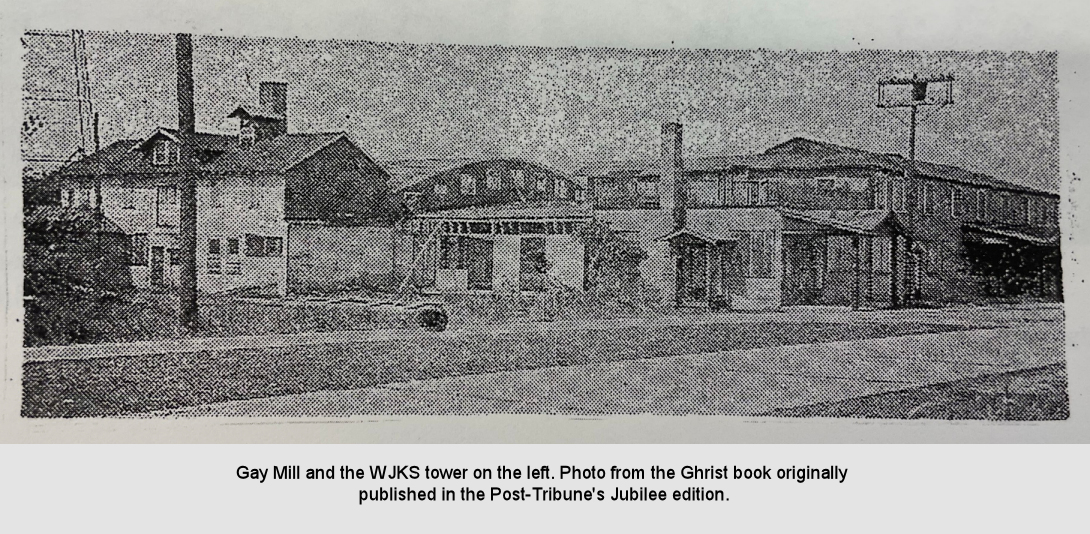 The license was finally issued on August 15, 1927 to operate on 1290 at 500 watts, sharing time with Chicago station WSBC. All which led to the big event of the first broadcast on the 29th. While Bob Boniel ⁠ (Footnote: Boniel: They spelled his name wrong on the ad: he was Robert David Boniel – per his WWII draft card, Ancestry.com records and Chicago Tribune articles. Boniel was station manager of WEBH, a small station in the Edgewater Beach Hotel who went to WTMJ in Milwaukee in 1929. ) was announced as the Master of Ceremonies for the inaugural broadcast, the comedienne/singer/owner Frances Kennedy was likely the "life of the party." She broadcast in the following weeks becoming the popular "Voice of the Steel City" to the point that when she left for her winter vaudeville tour at the end of September, the Hammond Times noted on page one that she would be missed. ⁠ (Footnote: Times Sept 28, 1927, page 15. https://www.newspapers.com/image/304639131/ "Radio fans heard the voice of Miss Frances Kennedy for the last time in several months from Station WJKS, one of the owners last night when the program dedicated in her honor, as she bids a temporary farewell, leaving today on her annual winter vaudeville tour." )
It appears that Tom and Frances had a sincere desire to make "The Voice of the Steel City" a community station; on September 3, 1927 they launched a "Children's Hour" – actually an afternoon – to become a stimulus to Gary children in their study of arts and music. They invited Gary artists to try out at WJKS if they had ambitions to become radio stars or entertainers. ⁠ (Footnote: "WJKS Gives First Hours To Children", Gary Post-Tribune, 2 September 1927, page 18. ) While Frances toured her vaudeville act in the winter, the station continued to broadcast the dances from Gay Mill. In November of 1929 WJKS wanted to broadcast the Horace Mann-Emerson football game at Gleason field and installed special wiring to do so. At the last-minute school officials decided that Johnson couldn't do so, claiming that it would cut down attendance. Tom was incensed, as was Superintendent Gleason and a great number of other Gary people. ⁠ (Footnote: Football game broadcast: "WJKS Receives Many Protests," Hammond Times, Nov 4, 1929, page 17. While Johnson received the protests, they were ultimately directed at the school officials. People wanted to hear the game broadcast. )
That was the 'heyday' of WJKS and Gay Mill. Madura's Danceland opened in October of 1929, no doubt drawing away dancers and party goers. WWAE began broadcasting from Hammond in July of 1928. WJKS' frequency was changed on November 11, 1928 to 1360 on 1KW of power and then finally to 560 on 1 1/4KW on October 16, 1931. That raised a series of conflicts for several years and finally settled at 560 on 1KW. Transfer of the License from the Johnson-Kennedy Radio Corporation to Westinghouse Broadcasting Company occurred in 1953. ⁠ (Footnote: History Cards - WJKS (see bibliography) )

In 1932 it was time to move out of Gay Mill however. The studio moved to East 8th Street in Gary and then to 504 Broadway in Gary ⁠ (Footnote: History Card - WJKS, Card No. 1 – "Main Studio Location" ) where it remained until 1944, by then broadcasting with the call sign WIND. Gleason Field on June 17, 1933 was the scene of a preview of "Gary Day", June 29th, at the Chicago World's Fair Century of Progress. The day before, WJKS' call sign had been changed to WIND and it had joined the Columbia Broadcasting system. A 45-minute section of the festival program was broadcast nationwide through this connection with CBS. ⁠ (Footnote: Call sign change: "1800 Take Part in Gary Fair Spectacle Tonight", Gary Post-Tribune, 17 June 1933, pages 1 & 2. )
The transmitter remained in Miller until 1933 when it moved to where Lake Etta Park County Park is today (4801 W. 29th in Gary) and power was increased. ⁠ (Footnote: History Card - WJKS, image 21. ) Evidently it was in the 1970s when the transmitter was moved about a mile west to where the four towers rise today, on the border of Gary in Griffith, on the banks of the Little Calumet River. ⁠ (Footnote: History Card - WJKS; also File BL-14, 374 FCC Standard Broadcast Station License Alternate Transmitters dated December 1, 1979 locates the transmitter at 3000 N. Colfax St., Griffith, Indiana. )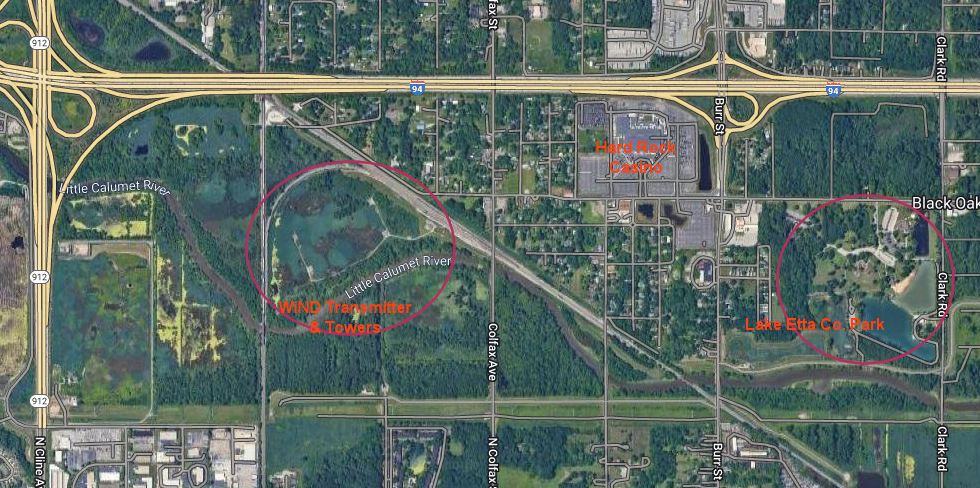 Location of Lake Etta Park and the current WIND transmitter and towers.