Samuel Whitman Miller,
Miller, Indiana
*


&
The Inns of North Township in 1850
When Judge Benjamin McCarty counted the census of all of Lake County in 1850, he ventured into the north part of the county, North Township, and counted 97 inhabitants, 7 of whom he identified as "Innkeepers."

He didn't state what Maria Gibson's occupation was, so he missed that: there were 8.



The histories of the county written in the following few decades identified five of those inns. They don't include one at Miller.
*

Miller, Indiana is a neighborhood of Gary, Indiana which is some 50 years older than Gary itself.
This fanciful map of the region graces the first pages of the 1939 W.P.A. book The Calumet Region Historical Guide.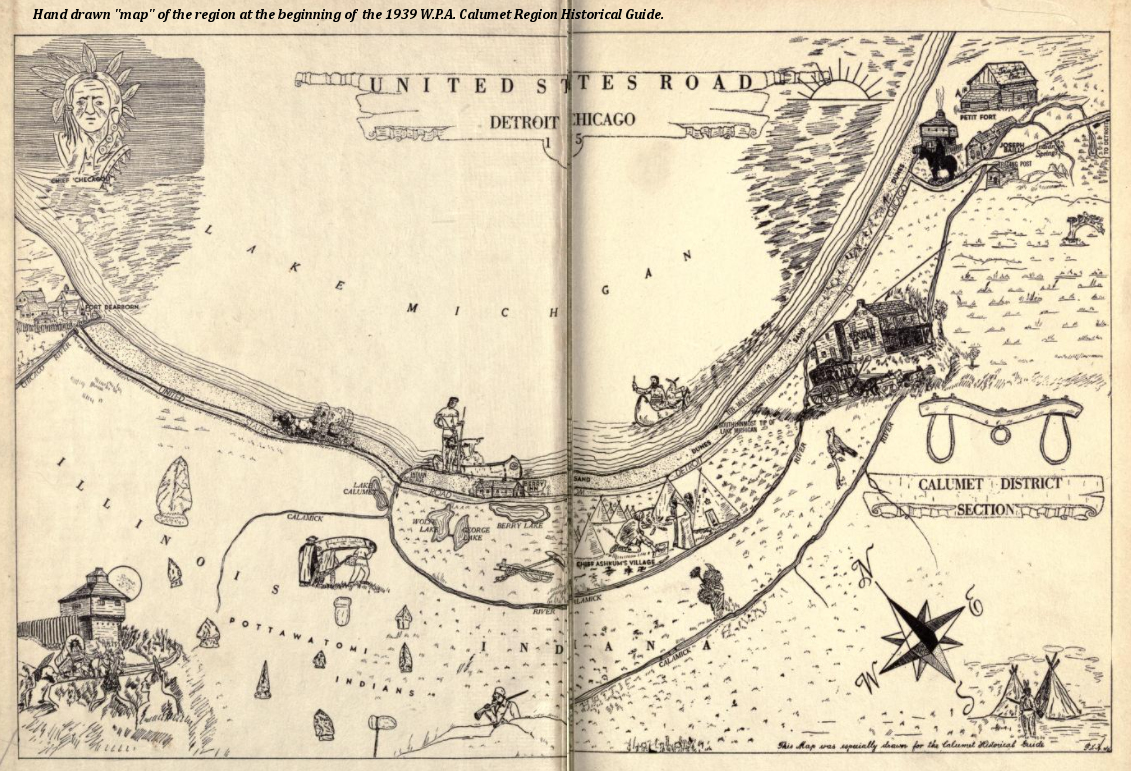 The Calument Region Historical Guide is online at Archive.org.
---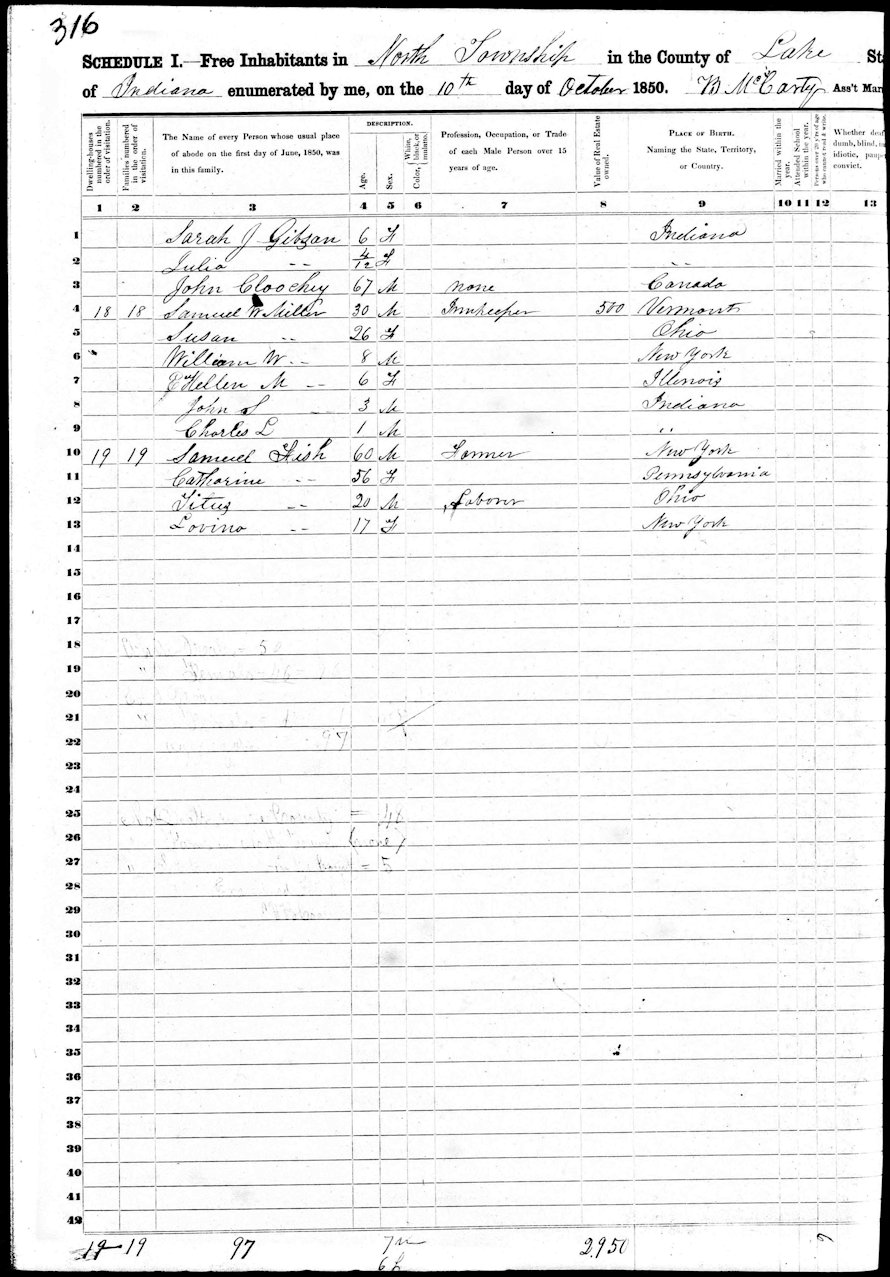 Page three of the 1850 census of North Township.
For all three pages, and a fourth page which is an interesting summary of all the townships in Lake County, click here.
One Samuel W. Miller is named an "Innkeeper" in the census.
On the third page of the 1850 census of North Township 30-year-old Samuel is on the census with his 26-year-old wife Susan, and four children ages 8-1. Right below is the family of 60-year-old Samuel Fish, Samuel's father-in-law. But more about that genealogy further down on this page. Or now if you want.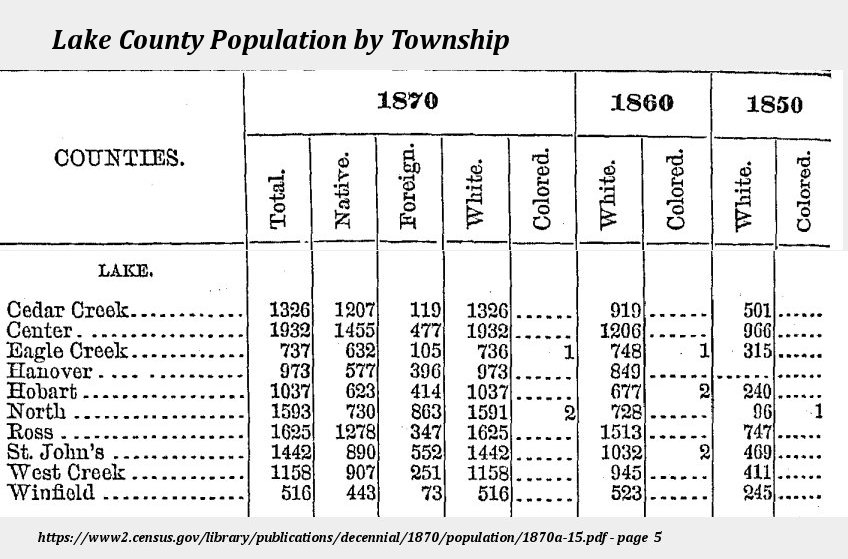 It is possible that Samuel kept the crude inn known as Bennett's at the mouth of the river at what is now Marquette Park, but more likely he operated an inn or a tavern at where the railroad was pushing through and what is now downtown Miller in Gary. As an inn, it didn't attract the notice of the early writers of the County's history who were all "down-county" people; Miller was remote, but in a township that people would pass through going east or west. (Footnote: Miller, the poor sister of Lake County: As an example, Howat's 1915 A Standard History of Lake County, Indiana states on page 171 that Miller's Station "...dates from 1874, when the latter railroad [the B&O] was put through the county and is named after one of the good German citizens who bought land at that locality and was engaged in business there. Nearly twenty years before the Michigan Southern had passed along the lake shore in that part of the township, but fixed no station there. Even after Miller's Station was placed on the map by the Baltimore & Ohio, the ice business was its main industry for years." Howat had evidently never talked to anyone in Miller, read a LS&MS timetable, or researched much of anything else about Miller's Station. He does include a nice little picture of Miller School though. See Sources & References ) The inn, or tavern, likely survived over the next decades as a popular "watering-hole" for railroad workers although there is no documented evidence of that. While the Miller family left in 1854, by 1860 the population of North Township had increased by 650 per cent, boasting 728 souls in some 149 households, eighth largest of the ten townships in Lake County. (Footnote: Census.gov: Population of the United States in 1860: Indiana, page 15 of https://www2.census.gov/library/publications/decennial/1860/population/1860a-12.pdf & census sheets for household number. ) Miller grew slowly, acquiring a post office in 1865. (Footnote: Post Office information see my web page at 'You've Got Snail Mail' ) By 1870 the population of North Township had grown to number 1593 people. As T.H. Ball notes in his 1873 history of Lake County, Miller had 12 families, a little store, and a school house.
Inns, Innkeepers, and the 1850 census of North Township.
While the enumerator of the census of 1850 was kind enough to identify "Innkeepers," sadly, he did not identify the inn they were keeping and one has to make educated guesses as to the inn, except for the Gibsons, or Allen Brass, thanks to the county histories which discuss those people. (Footnote: Occupations: The 1850 census of North Township identified occupations of the head of household: seven as farmers, one blacksmith, one joiner, one weaver, one laborer, seven innkeepers, and one not stated – Maria Gibson.) ) Succeeding censuses, 1860 and 1870, identified individual occupations, but none are found as innkeepers. Many heads of households were identified as "farmer" or "keeping house," as was Maria Gibson in the 1870 census.
Those named as innkeepers in the 1850 census ("family" includes the head of household.):
Samuel W. Miller (age 30 family of six)
James McCarger (35 family of six)
Albert Spears (31 family of five)
David Gibson (47 family of three)
Edward Ensign (31 family of five)
Allen H. Brass (32 family of five)
A.D. Denny (Alonzo) (28 family of two)
Maria Gibson (38 family of seven – occupation not identified but, as mentioned, is included here.)
My map of North Township in 1850 overlayed on a current map. Click to enlarge.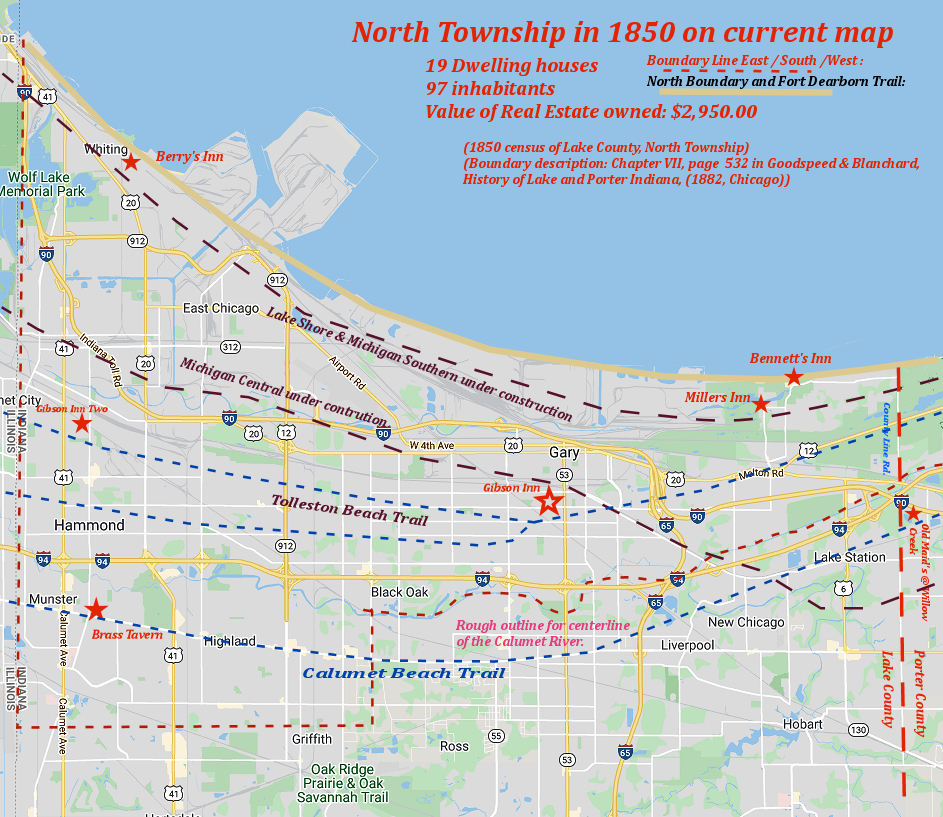 The course of the river which makes up more than half of the southern border of the township, the trails, and the railroad lines are approximate. The border of the township and the locations of the inns are more exact. See the 1874 Hardesty map below for a better idea of the course of the river.
The Gibson family was perhaps the most noted and discussed of the innkeepers. Thomas and his wife Maria moved into North Township about 1837 and built a rude inn in today's Munster which they eventually sold to Allen Brass in 1845. Shortly afterward David started the inn at what was to become the intersection
of Fourteenth and Madison in Gary, near where Froebel school was built. He sold that to Thomas and Maria and started a third Gibson Inn near what is now Hessville (Gibson Inn Two on the map.). (Footnote: The best description of these inns is in Ken Schoon's Calumet Beginnings, pages 64-68, which draws on the memories of Maria Gibson's daughter-in-law which she provided to James Lester and which were published in the Indiana Magazine of History in June of 1922. That same article included the reminiscence of William Kunert about the Tolleston Gun Club. )
There is a good deal of information about Allen Brass and the Brass Tavern on the Munster Historical Society's page, "Brass Beginnings."
---
Early Inns
Among the inns noted on my map and in the County histories are the very first inns in North Township which serviced the Detroit-Chicago Post road that ran stagecoaches beginning in 1833 on the beach, a difficult route depending on the time of year. The inns, Bennett's Tavern at the mouth of the Grand Calumet where Marquette Park is today, was built in 1833 and a year later Hannah Berry opened an inn in the west between Berry Lake (Footnote: Berry Lake has been long since filled in and doesn't appear the Hardesty map below which shows Lake George. Berry Lake was east of Lake George. There is an excellent discussion, with a map locating it, of Berry Lake at the Whiting-Robertsdale Historical Society web page on Berry Lake. ) and the beach. Whether these crude inns were still around in 1850 is unknown; most of the travel had shifted south to the more forgiving Tolleston Beach and Calumet trails. Probably no better description, however, of travel on the beach road in 1833 exists than in Charles Hoffman's chatty and descriptive account in his 1835 book, A Winter in the Far West. (Footnote: Hoffman, Charles Fenno, A Winter in the Far West, Vol. I, pages 229-233 (London, 1835). Hoffman's estimates of mileage are off some, but this is not surprising. It is a little over 2 miles to the beach from Bailey's homestead, and about 7½ miles down the beach to where the mouth of the Grand Calumet (Bennett's Tavern) was in those days, now where Marquette Park is today. From there along the beach, it is about 13½ miles to Berry's (now about Whiting) and then another 28 miles to Chicago.(Measurements made using Google Maps 'Measure Distance' tool.) )
Twenty-seven-year-old Hoffman left in October from the east by stagecoach. After travelling by stagecoach as far as the Bailey homestead in Porter County to spend a night, the author took to horseback about noon to head to the beach: "...we came suddenly upon a mound of white sand at least fifty feet high. Another of these desolate-looking eminences, still higher, lay beyond. We topped it; and there, far away before us, lay the broad bosom of Lake Michigan, -the red disk of the sun just sinking beneath it." Night was falling and there was still a goodly way to go to get to what was no doubt Bennett's Tavern. "The deep sand, into which our horses sunk to the fetlocks, was at first most wearisome to the poor beasts; and having twenty miles yet to travel entirely on the lake-shore, we were compelled, in spite of the danger of quicksands, to move as near the water as possible. But though the day had been mild, the night rapidly became so cold that, before we had proceeded thus many miles, the beach twenty yards from the surf was nearly as hard as stone, and the finest Macadamized road in the world could not compare with the one over which we now galloped…. The lake alone looked dark and lowering; though even its gathering waves would smile when touched with light as they broke upon the shore. The intense cold seemed to invigorate our horses; and dashing the fire from the occasional pebbles, they clattered along the frozen beach at a rate that brought us rapidly to our destination for the night.
"It was a rude cabin, built of stems of the scrub pine, standing behind a sandy swell about two hundred yards from the shore." After an evening conversation with fellow inn-mates, "The hour of sleep for all at last arrived, and a couple of wooden bunks, swing from the roof, falling to the lot of those who had come in first, I wrapped myself in a buffalo-skin, and placing my saddle under my head for a pillow, soon 'slept like a king;' a term which, if 'Uneasy lies the head that wears a crown'
be a true doctrine, is probably, quasi lucus, &c." In the morning, "…we pushed ahead with all speed, to accomplish the remaining twenty or thirty miles between the shanty and Chicago. Our route was still along the shore; and after passing around the end of lake and taking a northwardly direction, the way in which the icy blast would come down the bleak shore of the lake 'was a caution.'" At this point there is a brief stop at what was Berry's Tavern before being ferried over the channel that had been cut from the river to the lake and proceeded to Chicago where he wrote this portion of his adventure on January 1, 1834. (Footnote: For the Calumet River see "Calumet River System," Encyclopedia of Chicago, online;
and Schoon, Calumet Beginnings (2003, page 41) )
---
North Township in 1874
North Township existed across the width of the county until 1883 when Calumet township was created and North Township was relegated to western portion incorporating Whiting and Hammond south to its border with St. Johns township. The original boundaries of North Township were laid out in 1849 by the County commissioners when they divided up the original three townships of Lake County, North, Central and South. Those boundaries, which I've dashed in red on the map above, were:
"Commencing at the point where the Calumet River crosses the line dividing the counties of Lake and Porter; thence down the center of said river to the point where it crosses the line dividing Ranges 8 and 9 west; thence south on the said range line to the southeast corner of Section 36, Township 36, Range 9 west; thence west on the north line of the township of St. Johns to the Illinois State line; thence north along said line to Lake Michigan; thence eastwardly along said lake shore to the line dividing the counties of Lake and Porter; thence south on said line to the place of beginning."
The following map is a crop of Hardesty's sectional map of Lake Co., Indiana dated 1874. Drawn by the cartographer Rufus Blanchard and published in Chicago it is flanked left and right by a column which gives a great deal of information about the county, and the map itself, as you can see, gives plat ownership names. The entire map, all of Lake County, is at the Library of Congress website. Opens in a new window or tab.
---
Hardesty's 1874 Map
(A 10meg file...give it a few seconds to load.)
Zoom using two fingers, click, wheel or button and drag the map around.
Communities
The 1874 map shows a number of platted villages or towns. Notes are drawn from T.H. Ball's 1873 work on Lake County (Ball, 1873), Calumet Region Historical Guide (CRHG) and other sources as noted; see resources below for full citations. From west to east:
Sheffield

In the northwest corner is a "Dream City." Sheffield Ave. in Hammond gets its name from this "city," which, to quote the Whiting/Robertsdale website, was formed when "A group of Chicagoans planned to purchase 8,000 acres of land from Jacob Forsythe and create an industrial city known as Sheffield. It was named after an English industrial town of the same name. In 1874 a huge hotel, known as the Sheffield Inn, went up at what is today Calumet Avenue and Indianapolis Boulevard. But soon the national economy went into a tailspin and the rest of the project collapsed. The hotel later took the name of the White House and stood at that location until it burned in 1910."

Hammond

Hammond is a very tiny hamlet on the map but is now Indiana's fifth largest city. Although Ball does not mention Hammond, it was begun in 1869 with George H. Hammond's meat packing plant and incorporated in 1884.

Cassella

Cassella: (Not to be confused with Cassville which is between Hebron and Crown Point). Cassella was a station on the Pittsburg and Fort Wayne Railroad (P. & F.W. RR) and was very nearly destroyed by fire in 1872. Very few families. (Ball, 1873.) Likely where East Chicago is today.

Gibson's Station

Ball only says "Gibson's Station – 1850" which may mean that it was there as early as 1850. A station on the Michigan Central RR with 4 families. Just about a mile north of Hessville. (Ball, 1873)

Hessville

Settled in 1850 by Joseph Hess who kept cattle. A store opened about 1853. 20 families in 1872. One blacksmith shop. The families here live by cutting wood, picking berries, and working on the railroad. There are two carpenters. Has a school house and some seventy scholars. (Ball, 1873)

Middleton

Nothing could be found about this community in the histories. But if one looks closely, you can see a good deal of land around owned by "Geo. T. Cline" who was a non-resident large land owner in the county, who along with a partner owned some 12,000 acres in the county. Presumably, Cline Ave. got its name from George.

Pine

A station on the LS&MS RR with four families. (Ball, 1873).

Clarke

A station on the Fort Wayne RR with 16 families. Two ice houses, one hotel, and a school house. Principal industry is putting up and shipping ice. Clarke was named after George Washington Clarke, a young engineer who worked on the B&O when it came through Lake County and a number of other projects in and around Chicago. (Ball,1873) Clarke has quite a write-up in the 1939 W.P.A Project's The Calumet Region Historical Guide. See that at Archive.org.
- Clarke also has an incredible gravestone monument in Rosehill Cemetery in Chicago. See Jim Craig's blog page on that at "Under Every Tombstone" for amazing photos and a biography of George W. Clarke - Clark Road, which runs north and south two miles east of Cline Ave on the west side of Gary is named for him.

Tolleston

Tolleston - 1857: in 1872 had 80 families and a population of 400 on the P. & F.W. RR. The men for the most part work on the railroad, which pays about two thousand dollars a month. Four stores, 3 carpenters, a blacksmith, and a shoemaker. "A few miles distant is a Chicago Club House." (Ball, 1873.) Ball is no doubt referring to the Tolleston Gun club. See my page on the Gun Clubs on NW Indiana for more history on that. The Tolleston neighborhood of Gary is still in existence by that name.

Indiana City

1836: Another "ghost city" laid out by a company by a company from Columbus, Ohio and sold for $41,000 in 1841. Right at the mouth of the Calumet River where Marquette Park is today, there were visions of it becoming a major port city. Never happened, and the 78 lots, each 66 feet wide were never sold. (Ball, 1873 & CRHG) The mouth of the river was at best a swamp, and anyone trying to develop it would have been in for a lot of work, and money. Indiana City has its own Wikipedia article.

Miller Sta

Ball wrote in 1873 that Miller had 12 families, a little grocery store, and a school house. Miller is the focus of this entire website and there are many articles about the railroad dating from 1851, the post office dating from 1865, and later developments. See the Miller History Table of Contents.
Not on the map but mentioned in histories:
Munster

If it had been platted in might be on the map, however, in the lower left one can see a number of structures dotted along the road, one of which was likely the Brass Tavern. Munster was named for the storekeeper who was named as Postmaster in 1865, Jacob Munster. Munster wasn't incorporated until 1907. As a town it postdated by some years the map and the county histories. See Munster Historical Society for more on this important community.

Whitney

A station on the LS&MS. A village with 15 families, no business other than railroad work. 20 miles from Crown point. (Ball, 1873) Where it was is unknown, but my guess it is the 80 acres marked "L.S.M.S" that sits just above Tolleston on the south bank of the river. About where Buchanan Street crosses the river into the mills from 2nd Ave. in either section 4 or 5 of Township 36 North, Range 8 West. It was likely a company town.

Robertsdale

George Matchler Roberts took up 40 acres of land in 1849 in what is now Whiting and added 313 acres (CRHG, page 228; Ball, 1873 page 154). Ball includes "Robertsdale Station "as a small place of four or five families, on the LS&MS RR. On the map you can see two parcels of land labeled "Geo M. Roberts" – one just above Cassella, the other just below Sheffield. The Whiting-Robertsdale Historical Society is very active and has a "Quick History of Whiting."
---
---
Genealogy
At the beginning of this project I wanted to learn more about Samuel Miller, Susan his wife, and their families, where they came from and what happened to them. Where they came from proved almost impossible, but what happened to them much less problematic.
Where they came from.
On all four censuses in which Samuel was enumerated, he is listed as born in Vermont. (Footnote: Samuel Miller's birth home: some have given his birthplace as New Hampshire, but that is likely because of mistakes, or ignorance when, starting with the 1880 census, individuals were asked where their parents were born as well as where they were born and children made a mistake. ) On the 1880 census, three years before he died, he declared that both his parents were born in Vermont. (Footnote: The 1880 census was the first that asked not only where the individual was born, but the parents as well. ) Searching the pre-1850 censuses proved almost impossible given that there are some 140 men surnamed Miller in the 1840 census in Vermont, 127 on the 1830 census, and 98 on the 1820 census, four named Samuel Miller. But we don't know that Samuel Whitman Miller was named after his father. There is, however, a Samuel Miller in Northern Indiana in the 1830s who might have been his father. A Samuel Miller was appointed Postmaster in Michigan City in 1833 for two years, in 1837 the county commissioners granted a license to Samuel Miller to sell foreign goods in Deep River until September, in 1839 S. Miller is on the Lake County Tax roll. Until proven otherwise, there is no evidence that this Samuel was his father.
Samuel Whitman Miller's wife was born Susan Fish in Ohio, the daughter of Samuel Fish. That connection I have verified with much more evidence than the 1850 census which has the family on the same page, which taken alone, is circumstantial. I will be happy to share that evidence with anyone who is curious. Her father, Samuel Isaac Fish was born in New York, Rhode Island, or Vermont depending on the census you read, (Footnote: Samuel Fish's birth State is New York on the 1850 census, daughter Susan states her father was born in Rhode Island on the 1880 census, Vermont on the 1900 census. Susan's sister Lovina says New York on her 1880 census, but "N.Y." is in parentesis. Lovina says in 1900 "New Hampshire." They really didn't know. ) her mother, Catherine née Landis, was born in Pennsylvania and together they had six known children between 1821 and 1832, Susan being the second born in 1824. (Footnote: LANDIS: Susan's younger sister Philena declared on her marriage, her second in 1894, that her mother's name was Catherine Landis. Some say that Catherine's father was John Landis of Lancaster, PA, but I believe this is a mis-reading and mis-indexing of the original record which is at https://search.ancestry.com/cgi-bin/sse.dll?db=PALancasterMennonite&indiv=try&h=968233 )
None of Susan's siblings ventured further west than Iowa. The Fish surname in Vermont presents the same problem as does "Miller" in the pre-1850 censuses. But one interesting thing is that the Fish surname figures rather prominently in the California county to which Samuel and Susan moved in 1854-55. There are six male heads of households surnamed Fish in the 1880 census of Tehama County, California. I would think that one or more was a cousin of Susan's.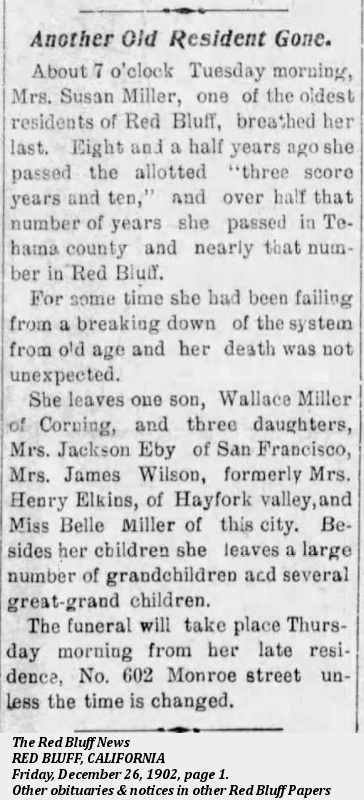 Samuel died on June 10, 1883 and while his obituary has never been found, Susan's 1902 obituary was published in the Red Bluff News; she died two days before Christmas, 1902.
Where they went.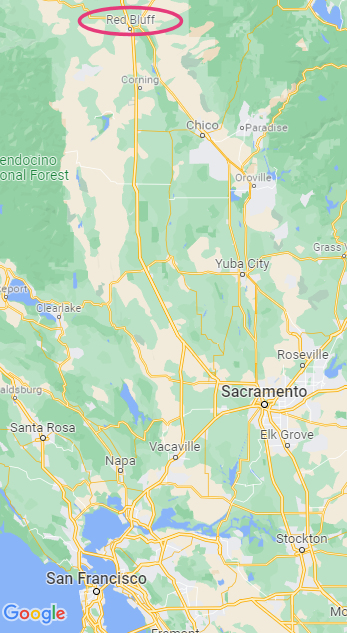 Red Bluff, in Tehama County, California, is where the Miller family migrated to in 1854-55 leaving from any one of the three or four departure points in Iowa or Missouri and no doubt following one of the "California Trail" routes that led through Carson City, Nevada into the Sacramento Valley of California. (Footnote: An marvelous interactive map of the various trails leading west to California is at the National Park Service's website. (Accessed October, 2021) ) Red Bluff is about 120 miles north of Sacramento.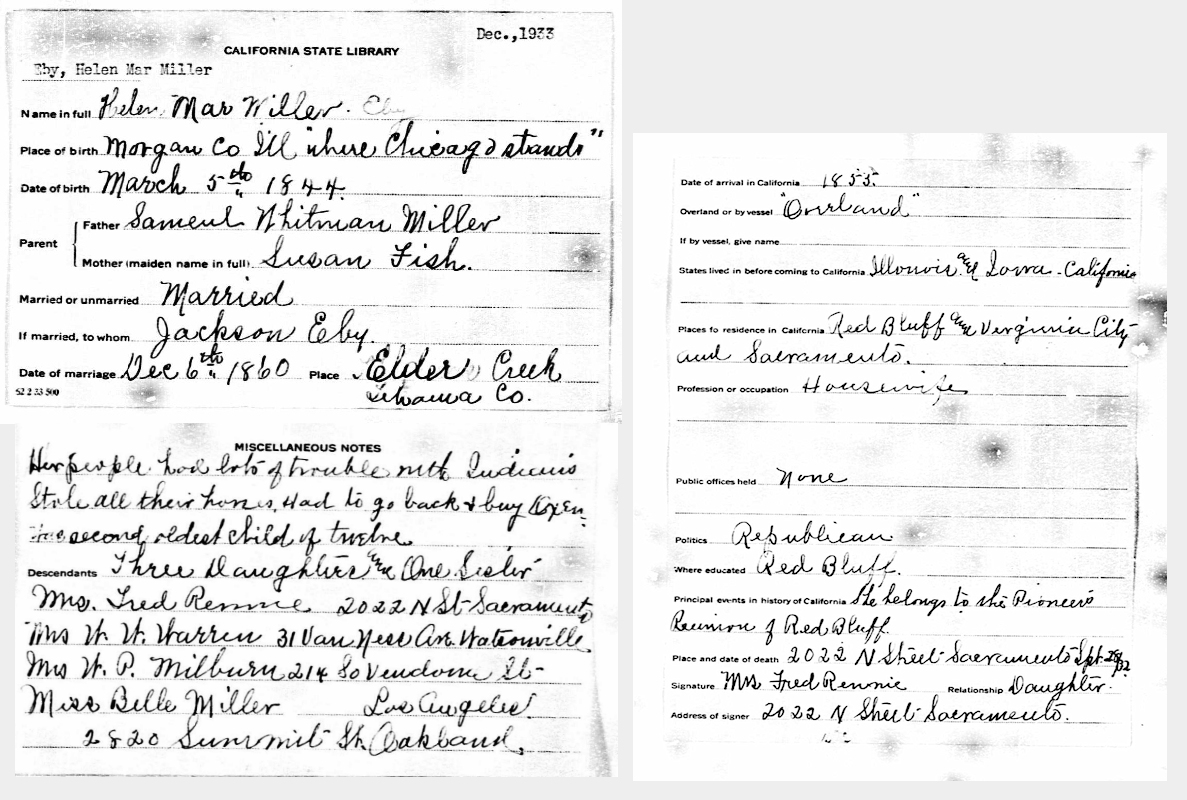 Helen Mar Eby's three cards combined.
In the early 1900s the State of California began collecting "Pioneer Files" and one of those recorded was Samuel and Susan's daughter Helen. Based on information in 1933 from her daughter Etta Amy Eby (1868-1942), her cards contain several curious things: 1) that she was born in Morgan County, Illinois, "where Chicago stands" – Morgan County is in west-central Illinois just west of Springfield. I suspect Helen's daughter was confused, although it is quite possible that the family tried to settle in Illinois first following the birth of William Wallace in New York. Helen's entries in the censuses clearly say Illinois, as does her obituary; there is a gap of three years between her birth in 1844 and the 1847 birth of John in Indiana which would seem to raise the possibility that another child was born in Illinois and died young, probably in Illinois. Helen's younger sister Frances' obituary clearly states that Frances was born in 1851 in "Miller's Station, Indiana." 2) Helen's card says that they travelled by way of Virginia City which didn't really exist in 1855 - Carson City was more likely. The card does say they had "lots of trouble with Indians" who stole their horses. It confirms Samuel's middle name and Susan's maiden name. It also confirms what Susan said on her 1900 census that she had had 12 children, stating that 6 of those children were still alive. (Footnote: Five of those six children alive in 1900 would have been William Wallace, Helen, Frances, Martin, and Belle. Who the sixth was is unknown at this point. )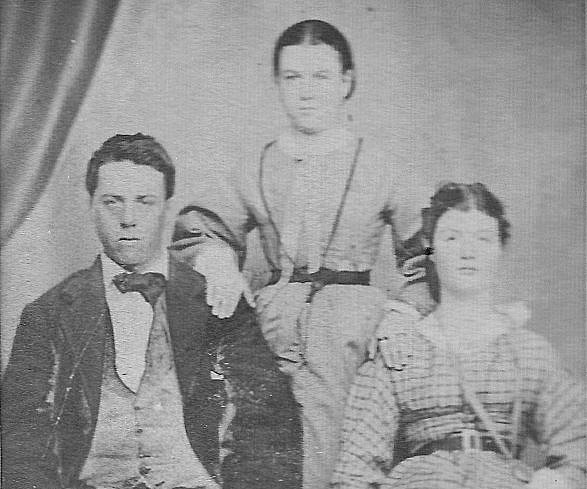 Frances Marion Miller (1851-1930), born in Miller, Indiana, is on the right. The photo, about 1885 when in her 30s, is with her second husband, Philip Foster, and likely daughter Gussie Elkins, a daughter by her first husband, Henry Elkins. Frances travelled to California by wagon with her family when only about three years old. At 18 she married 37 year old Henry Elkins with whom she had four children before he died in 1878. She married twice more, Philip, with whom she had three children, and then James Wilson following Philip's death.
Only nine of those twelve children have been accounted for: William Wallace Miller (1842-1916), Helen (1844-1932), John S. (1847-1851 who is buried in Miller Cemetery), Charles L., (1849 -?), Frances (1851-1930), a second John (1853 -?), Martin (1857-1926), Mary (1859 -?), and Belle (1860-1944). I've found pictures of only two of the children. More pictures must exist, probably in an album in someone's attic.
Find-a-Grave is a free (with ads) website on which memorials can be created. Samuel and Susan have memorials and along with Christine Klukkert who created the memorials initially, we have extended the family as much as possible to their grandchildren. Samuel's memorial has a picture of his headstone from which his birthdate, July 1, 1819, can be calculated. Susan's Find-a-Grave memorial has her obituary included along with a headstone picture. William Wallace Miller, Frances, and Belle all have memorials with their obituaries attached and are linked from their parents' memorials; at this writing they are the only children linked. Little John who is buried in Miller Cemetery, has a memorial not yet linked to his parents.
Samuel's FamilySearch.org person page is at https://www.familysearch.org/tree/person/details/MTLG-VW6 Accounts at FamilySearch.org are free.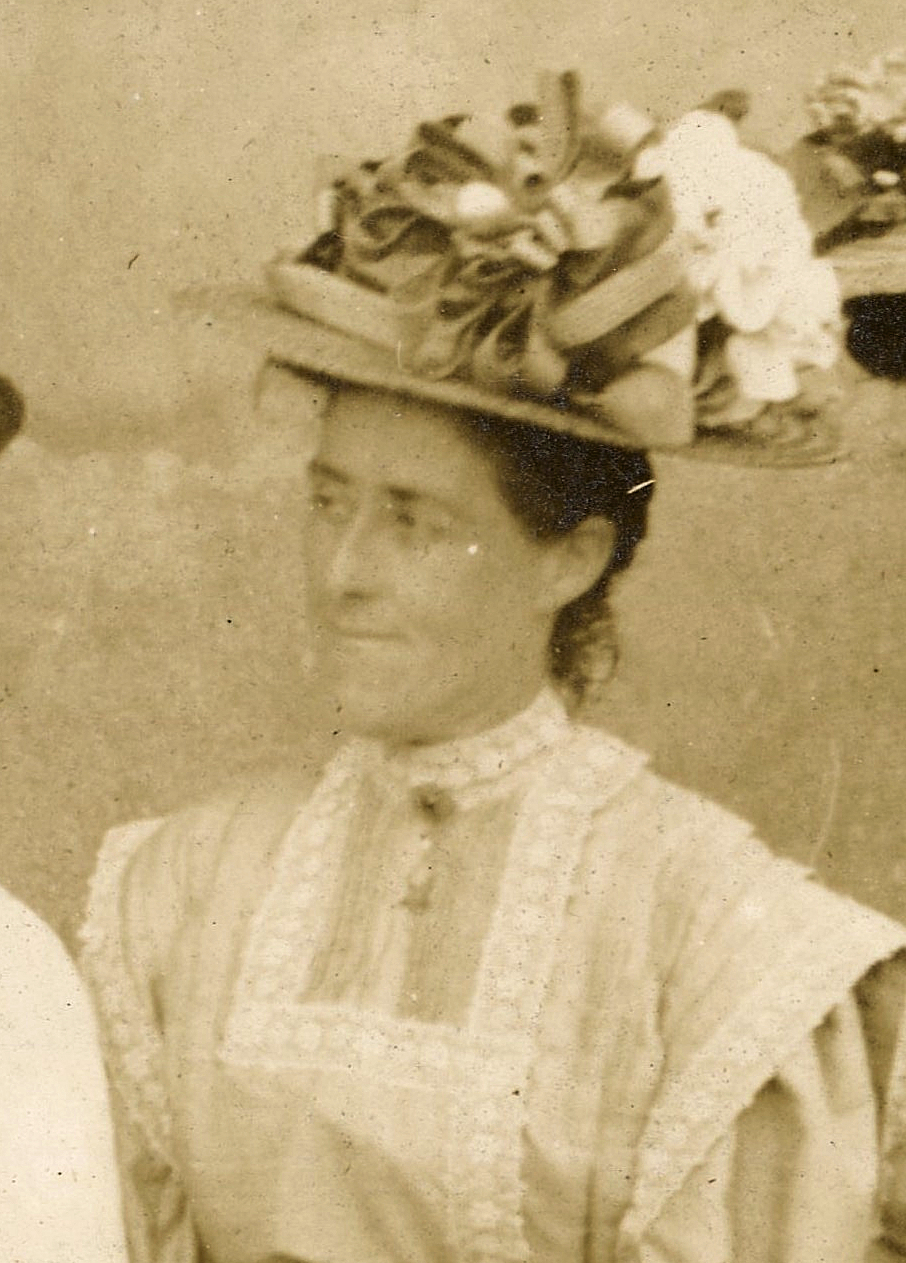 Belle Miller, who never married, is shown here cropped from a group picture of teachers in Tehama County in 1903. She was at times the Superintendent of Schools in the county and taught later in Oakland.
---
Sources & References used.
Ball, T. H. (Timothy Horton).

Encyclopedia of genealogy and biography of Lake County, Indiana.

(1904, Chicago). Online at https://archive.org/details/encyclopediaofge01ball/page/n11/mode/2up
Ball, T. H. (Timothy Horton).

Lake County, Indiana, from 1834 to 1872.

(1873, Chicago). Online at https://archive.org/details/lakecountyindian00ball_0/page/n7/mode/2up

The Calumet Region Historical Guide.

Federal Writers' Project, Indiana. (1939, Garman Printing Co. for the Gary Board of Education). Online at https://archive.org/details/calumetregionhis00writrich/page/n7/mode/2up
Goodspeed, Weston Arthur and Blanchard, Charles.

Counties of Porter and Lake Indiana.

(1882, Chicago). Online at https://archive.org/details/countiesofporter00good

History of Lake County.

(1929, Gary, Indiana) A publication of the Lake County Historical Association. Lake County Public Library. Online at https://archive.org/details/historyoflakecounty1929/page/n1/mode/2up
Hoffman, Charles Fenno.

A Winter in the Far West.

(1835, London) Online at https://archive.org/details/awinterinwest01hoffgoog/page/n6/mode/2up - Letter XVII, page 221.
Howat, William Frederick.

A Standard History of Lake County, Indiana, and the Calumet Region.

(1915, Chicago) Online at https://archive.org/details/standardhistoryo01howa/page/n9/mode/2up
Lester, J. W. Pioneer Stories of the Calumet. Indiana Magazine of History (June, 1922). Online at https://scholarworks.iu.edu/journals/index.php/imh/article/view/6241 -Marvelous recollections of Maria Gibson's daughter-in-law. Also the memories of William Kunert, former superintendent of the Tolleston Gun Club.
Moore, Powell.

The Calumet Region, Indiana's Last Frontier.

(1959, 1987, Indiana Historical Bureau).
Ravenscroft, [Winnie] Margaret.

Sources and Index for the History of Lake County, Indiana.

(1935, Chicago). A dissertation submitted to the University of Chicago. Lake County Public Library. Online at https://archive.org/details/ravenscroftlakecountyhistory/page/n1/mode/2up - Valuable but hard to read, even her first name on the title page.
Schoon, Kenneth J.

Calumet Beginnings.

(2003, Bloomington, Ind.)
Simon, Linda and Ammeson, Jane. Miller Beach (Images of America) (2012, Arcadia Pub., South Carolina). Can be previewed at Google Books
"Tolleston "Old Settlers" Centennial." (1951, Lake County Public Library). Online at https://archive.org/details/tollestonoldsettlerscentennial/mode/2up -A 63 page pamphlet with articles on Gibson Inn and the Tolleston Gun Club.
Websites:
---
Acknowledgements
Many thanks to Christine Klukkert whose Ancestry Family Tree and contributions to Find-a-Grave paved the way to knowing about the Miller family and descendants in California. Georgia Scott at the Tehama County Library for the scan of the teachers of Tehama County in 1903. And to Sharon Heavner at the Lake County Public Library who pointed to resources there and provided obituaries from the Gary Post-Tribune.
---
Footnotes: