Indian Boundary
Or
Indiana Boundary?
Most all Millerites are familiar with the street called "Indian Boundary" that runs from Lawrence east to County Line Road, cut up and not continuous. So how did it get that name,
and what is the Indian Boundary anyway?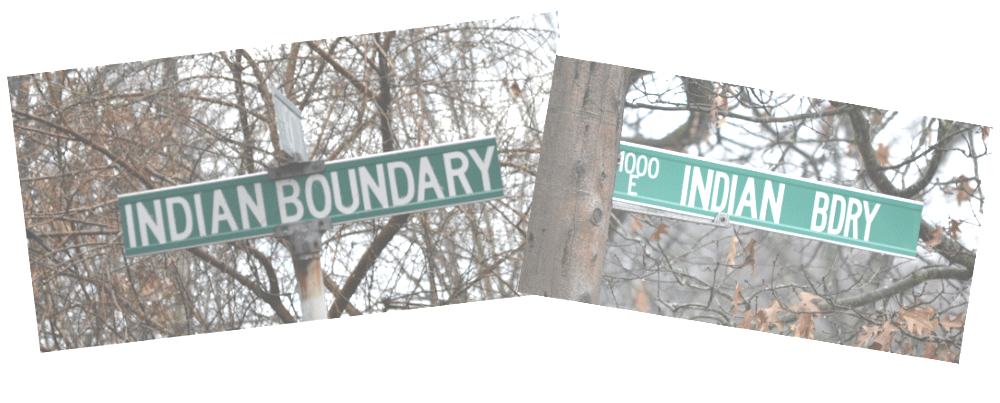 ---
---
To answer that one has to go back to the Northwest Ordinance of 1787 establishing the Northwest Territory which, in the fifth article, stipulated that Congress had the authority to "...form one or two States in that part of the said territory which lies north of an east and west line drawn through the southerly bend or extreme of lake Michigan;…" We shall see why this line should properly be called the "Indiana" Boundary Line" and why it is just "Indian Boundary Line," hence the street name.
In 1787 and for several decades until the surveyors with their rods and chains got to it, it was just an imaginary line drawn on a map. It reappears in 1800 when Indiana Territory was created by an Act of Congress and then five years later the Territory was divided in two, also by Act of Congress, separating Michigan Territory and Indiana Territory by that east-west line at the southern extremity of Lake Michigan. It was still an imaginary line that stretched from Lake Erie and eventually to the Mississippi River. (Footnote: White, page 72.The actual survey wasn't done until 1818 when John A. Fulton was contracted at $5 a mile to survey a line east from the south end of the lake until the line hit Lake Erie. BUT that line was not approved and it wasn't resolved until 1836. )
A history refresher on the States and their boundaries:
Ohio was the first state of the Northwest Territory to be admitted and 17th State admitted to the U.S. It's eastern and southern borders had already been established by rivers, lakes, the previous admission of Kentucky (1792), and with the original States of Pennsylvania and Virginia. Its western border with Indiana at approximately 84.5 West longitude, became the stable N-S border with Indiana, was determined about 1800 with establishment of the First Principal Meridian. (Footnote: White, page 37. In the last years of the 18th century the Surveyor General put together the public land system establishing principal meridians, Sections, Townships and the like. The first principal meridian became the dividing line between Ohio and Indiana. ) It was its eastern most northern border with Michigan's southern border that caused controversy and the bloodless "Toledo War" in 1833.
Indiana Territory was established in 1805 with its northern border being the east-west line at southern extremity of Lake Michigan. Granted Statehood in 1816, the northern border was adjusted 10 miles to the north where it would remain as the dividing line between Michigan and Indiana. Its western border was established by the State constitution two years before Illinois Statehood.
The northern boundary was originally going to be in line with the new northern boundary of Indiana, 10 miles north of the southern extremity of Lake Michigan, but that would have left no shoreline for Illinois, so eventual lobbying moved it north to approximately 51 miles north of the Indiana line. (Wikipedia)
Michigan's southern border had already been established with Indiana. Its statehood was delayed over controversies with Ohio over that border and as a concession in giving up land to Ohio it was given the Upper Peninsula.
Part of Indiana Territory from 1800 to 1809, Illinois Territory from 1809-1818, and Michigan Territory from 1818-1836 when it became Wisconsin Territory until Statehood in 1848.
---
Ten years later, in 1815, Congress was petitioned to create the State of Indiana. And so it did in the Enabling Act of 1816 which moved the imaginary line ten miles north from that east-west line at the south end of Lake Michigan. Without that, Indiana would have had no port access to the lake. That 10-mile north line was codified in Article XI, section 17 of the Indiana State Constitution of June, 1816. Indiana's western border was established by that same Enabling Act of 1816 and codified in the State Constitution. (Footnote: Border with the future Illinois: "…On the west by a line drawn along the middle of the Wabash river from its mouth to a point, where a due north line drawn from the town of Vincennes, would last touch the northwestern shore of the said Wabash River; and from thence by a due north line until the same shall intersect an east and west line, until drawn through a point ten miles north of the southern extreme of lake Michigan;…" (Indiana State Constitution, Article XI, section 17.) )
---
On October 16, 1826 the Potawatomie ceded land by the Treaty of Mississinewa to the State in Porter and La Porte counties. (Footnote: Hunter, "The Indians and the Michigan Road"; Treaty of Mississinewa, Article One. ) That land was a strip ten miles south of the Indiana border with Michigan Territory to the "old" east-west line at the southern extremity of the lake. As John Drury summarized in his 1956 book This is Porter County: "The south line of this strip has since then become popularly known as the Old Indian Boundary Line." (Footnote: Drury, "History of Porter County, 1956". )
It was "popularly known" at least by 1929 when W.P. Coddingham, Gary City Civil Engineer, published a map which shows the platted streets. That map shows "Indian Boundary," the street, continuous between Montgomery and County Line Road with no streets platted south between Montgomery and Union to the railroad and Long Lake. Extending that line, 41.617 latitude, westward one can see how it is the southern extremity of Lake Michigan, remembering that originally it was an imaginary line.
The 1929 map by the City Engineer is a tremendous resource for anyone interested in the Gary's history. It can be accessed at https://iucat.iu.edu/catalog/16670781 (click on the URL in that catalog listing and then on "Interactive View" just under the map. Note the extent of Long Lake into Miller, a map which I wish I'd had found when I made the article on Miller Town Hall and the Draining of Long Lake.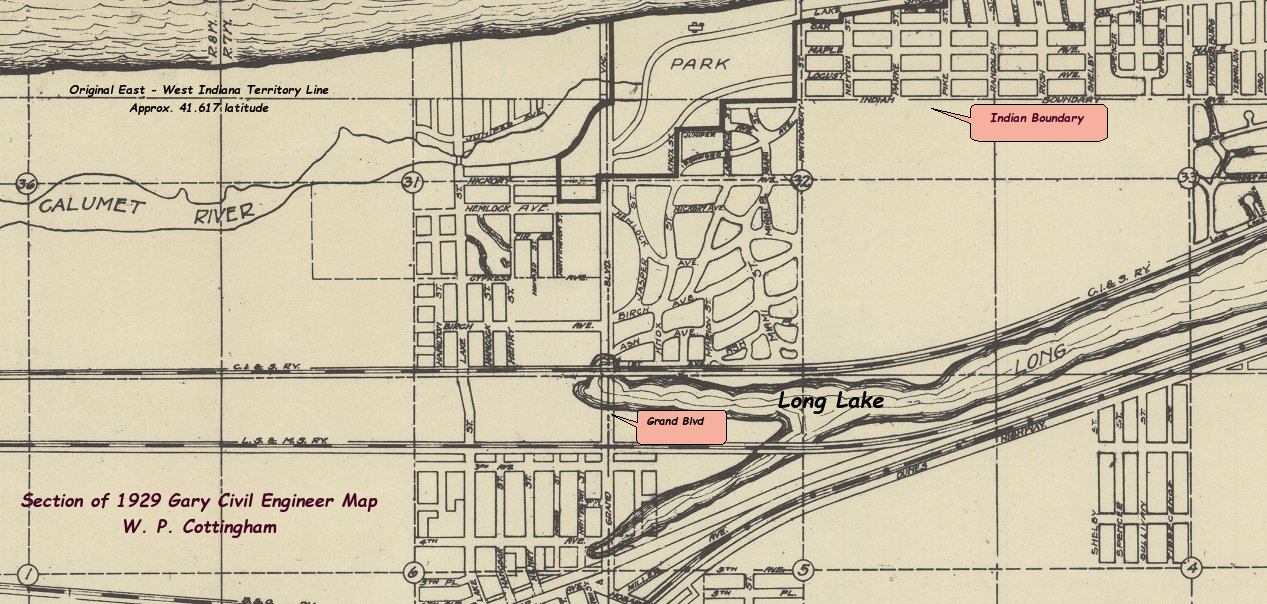 A small section of the 1929 Coddingham map. Click to enlarge.
---
In 1999 an historical marker was erected in La Porte by the Indiana Historical Bureau, the Hinton Family, and the La Porte County Historical Society. There is another in Soldiers Memorial Park in La Porte on Grangemouth Road as well as a stone Obelisk. Links to those are in the Sources and Further Reading.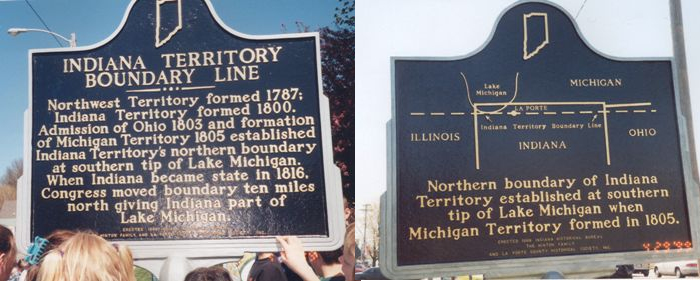 ---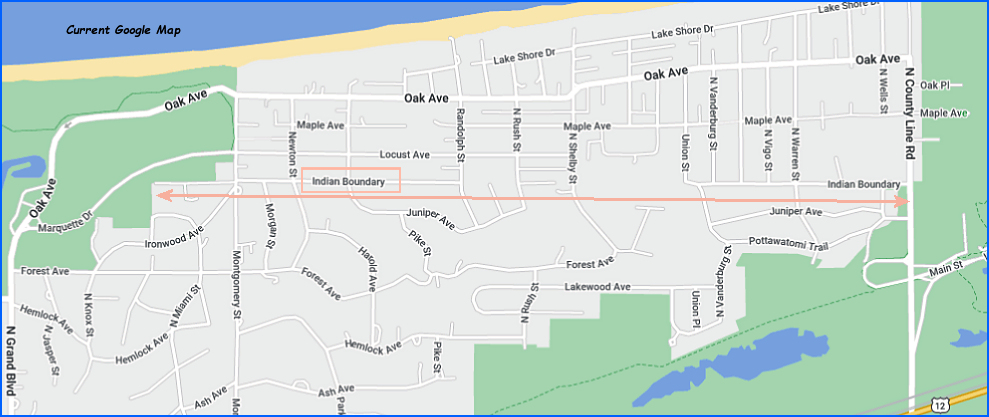 Platted as it was by 1929, the street did not become populated for another ten years. It was first listed on the 1939 City Directory with but two resident homes, those between Montgomery and Parke. In 1948 there were seven resident homes listed on Indian Boundary. The street name is pretty unique. There are others in Northwest Indiana: Indian Boundary Road in Chesterton runs about a mile and three-quarters bisecting State Road 49. Google Maps also shows County Rd 1275 N in Porter as "Indian Boundary Line Rd." And there are several in Illinois with that name.
---
All links open in a new tab or window.
White, C. Albert, "A History of the Rectangular Survey System", (Washington, D.C., Gov't Printing Office, 1983), 774 pages online. An incredibly detailed history that is complete with governing Acts and Statutes that cover the whole of the U.S. as well as details on the surveyors and their works.
Coddingham, W.P., "Map of Gary Indiana and vicinity" (1929) http://purl.dlib.indiana.edu/iudl/images/VAC3073/VAC3073-M-00922 (Click on "Interactive View" just below the map); Indiana University Digital Map catalog listing.
Drury John. This Is Porter County Indiana: An Up-To-Date Historical Narrative with County and Township Maps and Many Unique Aerial Photographs of Cities Towns Villages and Farmsteads. (Chicago: Inland Photo; 1956.) Online at inportercounty.org; Find in a Library via WorldCat:https://worldcat.org/en/title/9331762
Davis, Charles, The Indian Boundary Line Under the Treaty of August 24, 1816, (Journal of the Illinois State Historical Society, Vol., 28. No. 1 (Apr. 1935, pp 26-64) Online Link. – a discussion the line in Illinois as it appears on maps in Illinois from La Salle County westward to the Mississippi River.
Indiana State Documents at the Indiana Historical Bureau – Documents Leading to Statehood. Over twenty documents transcribed including the Land Ordinance of 1785, the Northwest Ordinance of 1787, the Act Creating Indiana Territory in 1800, the Act Dividing Indiana Territory of 1805, the Memorial for Statehood of 1815, the Enabling Act of 1816, and the Constitution of 1816.
Wikipedia Articles. These are very helpful with background on the Statehood dates, and on the Public Land Survey System.
Indiana Territory Boundary Line Historical Marker: 213 Pine Lake Avenue (U.S. 35), La Porte, Indiana. (In front of the KFC). Also the one in Soldiers Memorial Park has a webpage in the Historical Marker Database with pictures and links to where to find it in La Porte. (Hint: its across from the entrance to the beach parking.)
History of Porter County (Lewis Publishing Company, Chicago, 1912) Chapter II online (pages 25 and 26 for the Treaty of Mississinewa that defines the "10-mile" strip ceded to the State.)
Hunter, Juanita, "The Indians and the Michigan Road", Indiana Magazine of History, Vol 83, issue 3, pages 245-266. Online See page 253 and following for the Treaty of Mississinewa of October 16, 1826.
Treaty of Mississinewa, Article One. Transcribed at http://www.kansasheritage.org/PBP/books/treaties/t_1826.html
---