The Chaplains
The following are brief biographies of chaplains of St. Francis House from 1964 to the present. In most cases, additional biographical information can be found on their Find-a-Grave memorials or the web pages of their current parishes. Those links are in these biographies. With any luck and the help of others, this page will be updated with portrait pictures of the chaplains as they appeared when in service at the House.
---
The Rev. Paul Kramer Abel (1920-1977);
Chaplain 1964-1968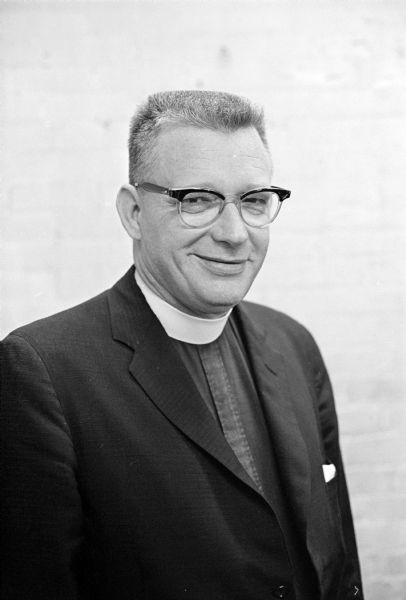 Fr. Abel came to St. Francis House from four years at Grace Episcopal church in Ocala, Florida. He assumed the chaplaincy in July of 1964 with the opening of the new chapel. Born in Pittsburgh, Pa. in 1920 the son of Albert and Elizabeth Abel, he graduated from Allegheny College, spent four years in the Air Corps during World War II, and graduated from Seabury-Western Seminary in 1948. Besides serving Grace church in Florida, he served parishes in Sycamore, Illinois and Hayes, Kansas. His full obituary posted on his Find-a-Grave memorial contains more information.

---
The Rev. Claud Adelbert Thompson (1933-2017);
Interim and assistant chaplain 1966-1968
Father Thompson, fresh from his graduation from Seabury-Western in 1964 and two years as a curate at All Saints in Appleton, Wisconsin, came to St. Francis House as a student/associate pastor in 1966 taking up the apartment on the second floor of the House. Born in Milwaukee, he graduated from Ripon College in 1955, received an M.A. in English Literature from Columbia University in New York. His specialty was the literature of John Milton. Married at the House in August of 1968, he received his Ph.D. in 1971 from the University of Wisconsin. A more complete biography is found at his Find-a-Grave memorial.

---
The Rev. Arthur Selden Lloyd (1927-2015);
Chaplain 1968-1977.
Born in Osaka, Japan the son of Episcopal missionaries the Rev. James Hubard and Louisa Myers Lloyd, Fr. Lloyd came to St. Francis House in September of 1968 following six years as chaplain at Indiana University. Educated at Hargrave Military Academy and the Virginia Episcopal School, he received a BA from the University of Virginia. His Master's degrees in Theology were from Virginia Theological Seminary and Yale Divinity School. Very much the activist in local and national causes, his complete biography/obituary is at his Find-a-Grave memorial and includes much more about Fr. Lloyd.

---
Rev. Thomas B. Woodward;
Chaplain 1977-1988
Father Woodward came to St. Francis House in October of 1977 from a chaplaincy at the University of North Carolina in Chapel Hill. He was greeted in a special outdoor service on the State Street Mall which included folk music, a celebration of Holy Communion and a simple meal attended by Bishop Gaskell. The announcement in the Capital Times included "He has a broad range of interests, ranging from studies in theology and worship to his organization of Uncle Billy's Pocket Circus, a small street circus which has played college campuses and street fairs, in which he served as a clown and mime…Greasepaint and juggling balls will also be presented with the words, 'Be among us as clown, reflecting divine joy in the midst of a serious community." He continued the activism of Fr. Lloyd, this time with the plight of refugees from the war in El Salvador as detailed more in the history text. Fr. Woodward left in 1988 for Salinas, California and is now retired in Santa Fe, New Mexico where he has written a blog since 2006: Turning Things Upside Down. (Accessed 8/3/2021)
---
The Rev. Virginia Sapienza Lund;
Associate Chaplain 1988-1991;
Chaplain Sept 1991-2003
The Rev. Lund was a graduate of the Episcopal Divinity School in Cambridge, Massachusetts and served in the Diocese of Michigan as a deacon at St. Gabriel's Episcopal Church in East Detroit. She taught women's liberation theology and ethics at the Whitaker School of Theology in Detroit. Priested in 1987 she evidently came to Madison shortly after and served as the associate chaplain, becoming installed as full chaplain in 1991, serving until 2003. She is now retired in Montana.
---
The Rev. Melissa Wilcox;
Chaplain 2003-2006
Ordained to the priesthood in February of 2001 in the Diocese of Connecticut, a fourth-generation Episcopal priest, but the first female to take Holy Orders in her family. She now serves as Associate Rector of St. John's Episcopal church in Carlisle, Pennsylvania with her husband, the Rev. Adam Kradel. More information about both of them can be found at St. John's website. (Accessed 9/3/2021)
---
The Rev. Shannon Kelly;
Chaplain July 2006-March 2009
A native of Twin Falls, Idaho, where her mother was a deacon at Ascension Episcopal church, and a graduate of the Church Divinity School of the Pacific in Berkeley, California, Shannon was ordained to the priesthood in 1998. Shannon went on from St. Francis House to become Director of Christian Formation for the Diocese of Milwaukee in 2009 leaving her husband, the Rev. Tom Ferguson to shepherd through the decision-making process in moving the House. She is a published author, in 1998 revised 2013, of God of My Heart: A Prayer Book for Youth available on Amazon.com. She is now (September, 2021) Director of Faith Formation and Officer for Young Adult and Campus Ministries> on the staff of the Episcopal Church.
---
The Rev. Thomas Ferguson;
Chaplain March 2009-2011
As mentioned, Fr. Tom saw through the decision-making process of moving the House in 2011-12. He is presently rector of St. John's in Sandwich, Massachusetts. This is part of his biography on that parish's website: "Father Tom is a native of Hanson, Massachusetts, and attended Wesleyan University in Middletown, CT. He received his MDiv from Yale Divinity School, Master of Theology from Holy Cross Greek Orthodox School of Theology, and PhD in Church History from the Graduate Theological Union in Berkeley, California." There is much more about Fr. Tom at St. John's website. (Accessed 9/3/2021)
---
The Rev. Jonathan Melton;
Chaplain August, 2012-July, 2019
Ordained to the priesthood in 2007, Fr. Melton came to St. Francis House from St. Christopher's by the Sea in Portland, Texas where he had been rector since October of 2009. He is a graduate of Wheaton College and Duke University Divinity School. Bringing social media skills to his ministry he published a blog, "Chasing Yoder," now archived but continued as "the patience of trees" in 2013. He is now on the staff of Holy Trinity church in Heath, Texas. There is more about his time at St. Francis House in the text of the history as well as his very enlightening blog on his first four years at St. Francis House now in the archive of "The Patience of Trees."
---
The Rev. Donald Fleischman;
Chaplain 2019-2021
The rector of St. Luke's Episcopal in Madison also served as chaplain to St. Francis House from Fr. Melton's leaving until the end of August, 2021 when a new chaplain took over the job.
---
The Rev. Roberta A. (Bobbi) Kraft;
Chaplain Sept 2021 – present
A native of Sheboygan and a 2018 graduate of Virginia Theological Seminary, Mother Bobbi was announced as the new chaplain in the September 3, 2021 Diocesan newsletter. The mother of two adult children, she came to SFH from Saint Barnabas the Encourager Episcopal church in Suamico, Wisconsin but prior to that had assisted at the Episcopal Student Center at Baylor University in Waco, Texas and served as chaplain to students at Georgetown University during her time at seminary. More information about her is in the Diocesan newsletter linked above.
---
---
Additional Links
This being the age of social media, one can keep up with the doings of St. Francis House on its Facebook Page.
There are hundreds of folks who came through the doors of St. Francis House over the decades. To memorialize some of them - now really those who I knew during my time at the House - I created some time ago a "Virtual Cemetery" on Find-a-Grave. Anyone wanting to add someone to that is welcome to email me (address at the bottom of this page) with a direct url to that person's memorial and I can add them to the Virtual Cemetery. All the deceased chaplains have memorials linked with their biographies. Find-a-Grave is free with ads. The Virtual Cemetery opens in a new tab at https://www.findagrave.com/virtual-cemetery/517587