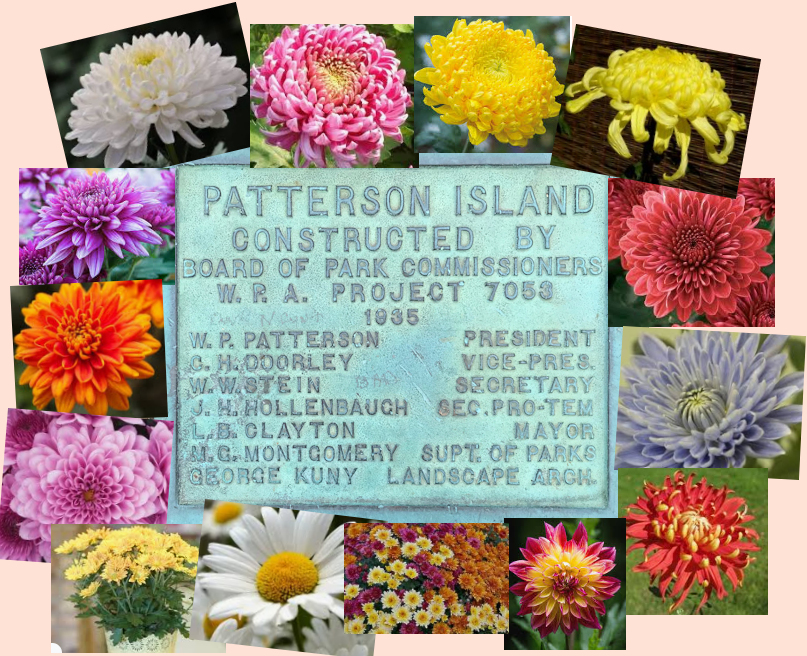 Chrysanthemums and Bridges

Patterson Island in Marquette Park
---
The same year that Patterson Island in the Marquette Park lagoon was dedicated in 1935 there was a mammoth flower show at the Pavilion. The next year's two-day show was visited by nearly 800 people and featured some of the 4,500 plants that had been propagated by George Kuny in the Park Department's greenhouses in Gleason park.

George Kuny was the original landscape architect of Patterson Island.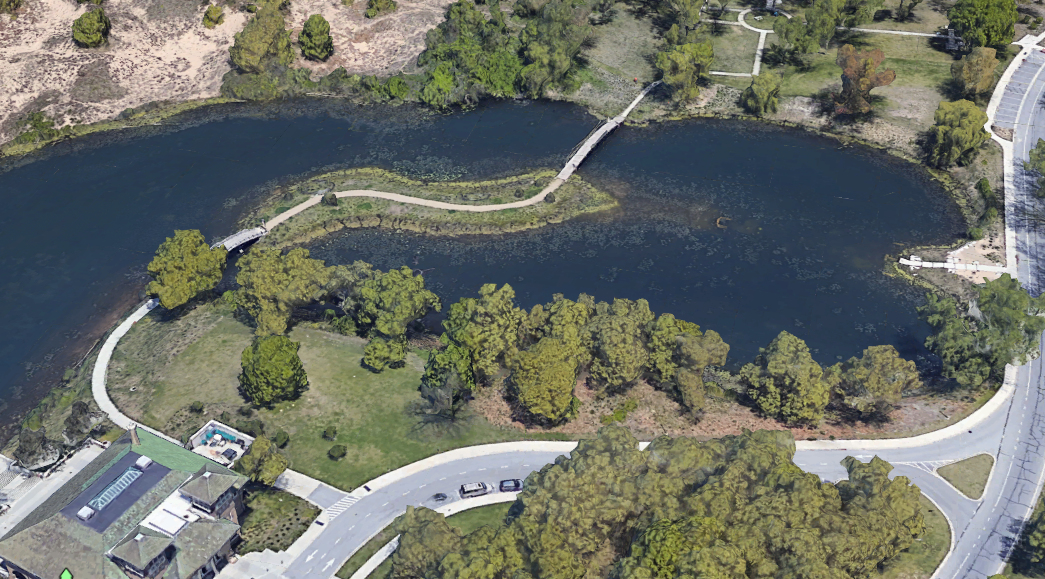 ---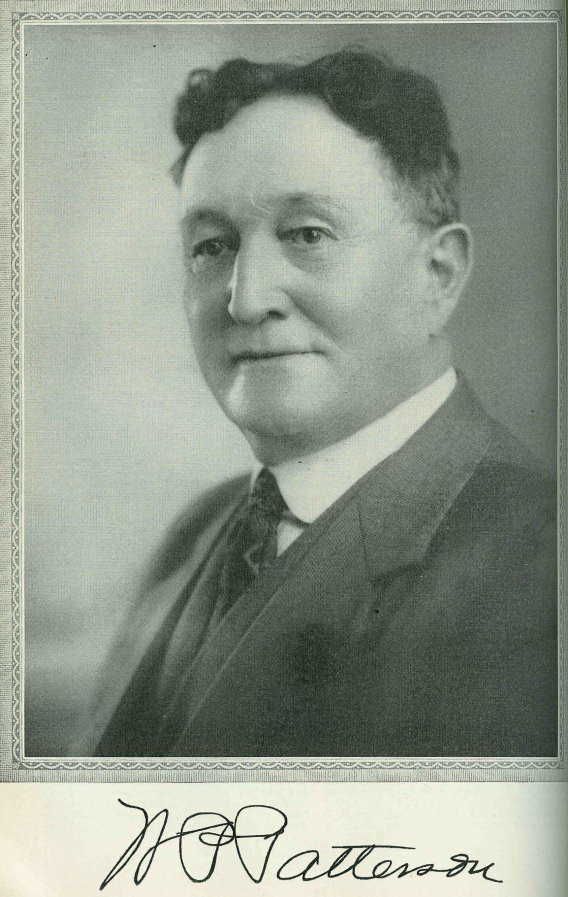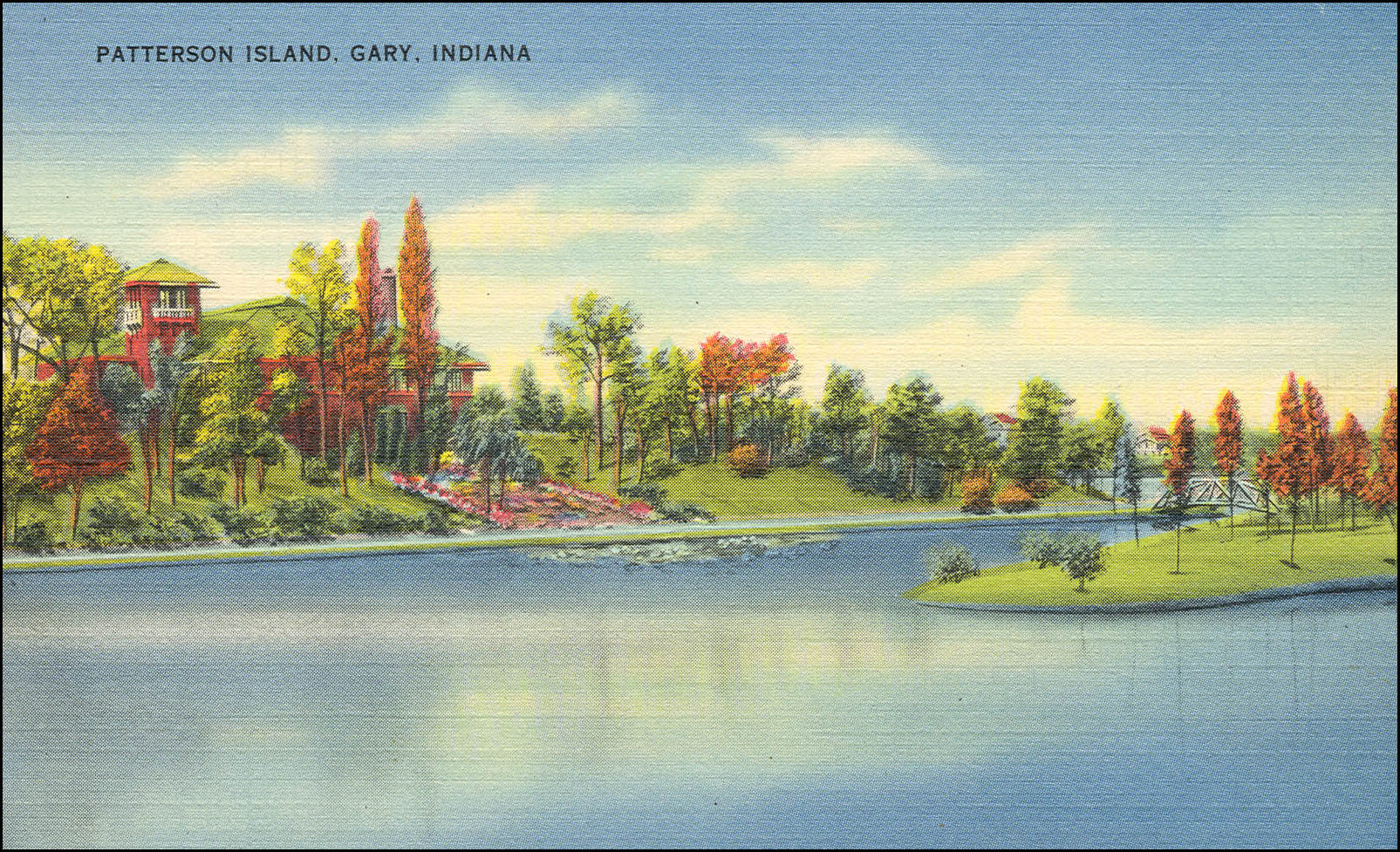 Patterson Island was named after one of Gary's first real estate and insurance brokers, William Pius Patterson (1871-1941). Born on a farm in Daviess County, Indiana, he opened a real estate office in Gary in 1908, served on the Board of Works under Mayor Johnson and was appointed to the park board by Mayor Clayton in 1935. An influx of money to the park board from the New Deal's Works Progress Administration (WPA) put nearly 1,000 people to work building North Gleason park and completing projects in other parks, including a Gun Club Clubhouse in Marquette Park, and Patterson Island.
---
The Bridges of Patterson Island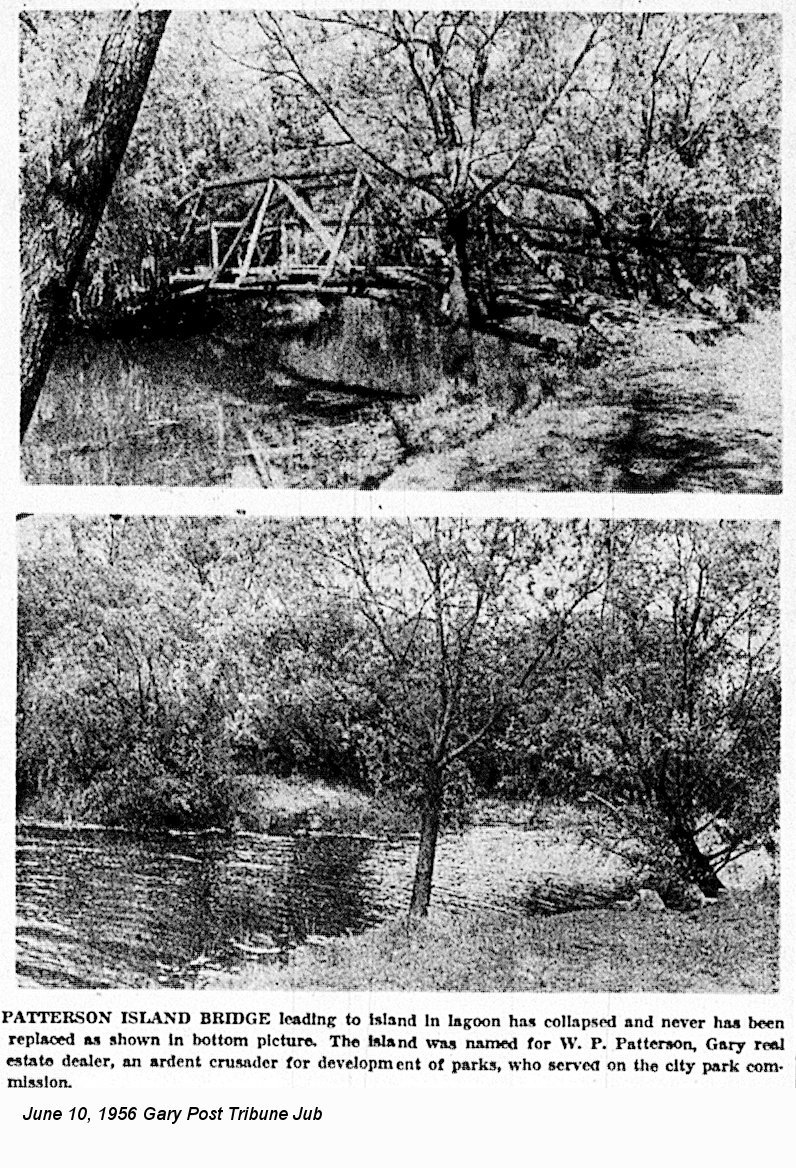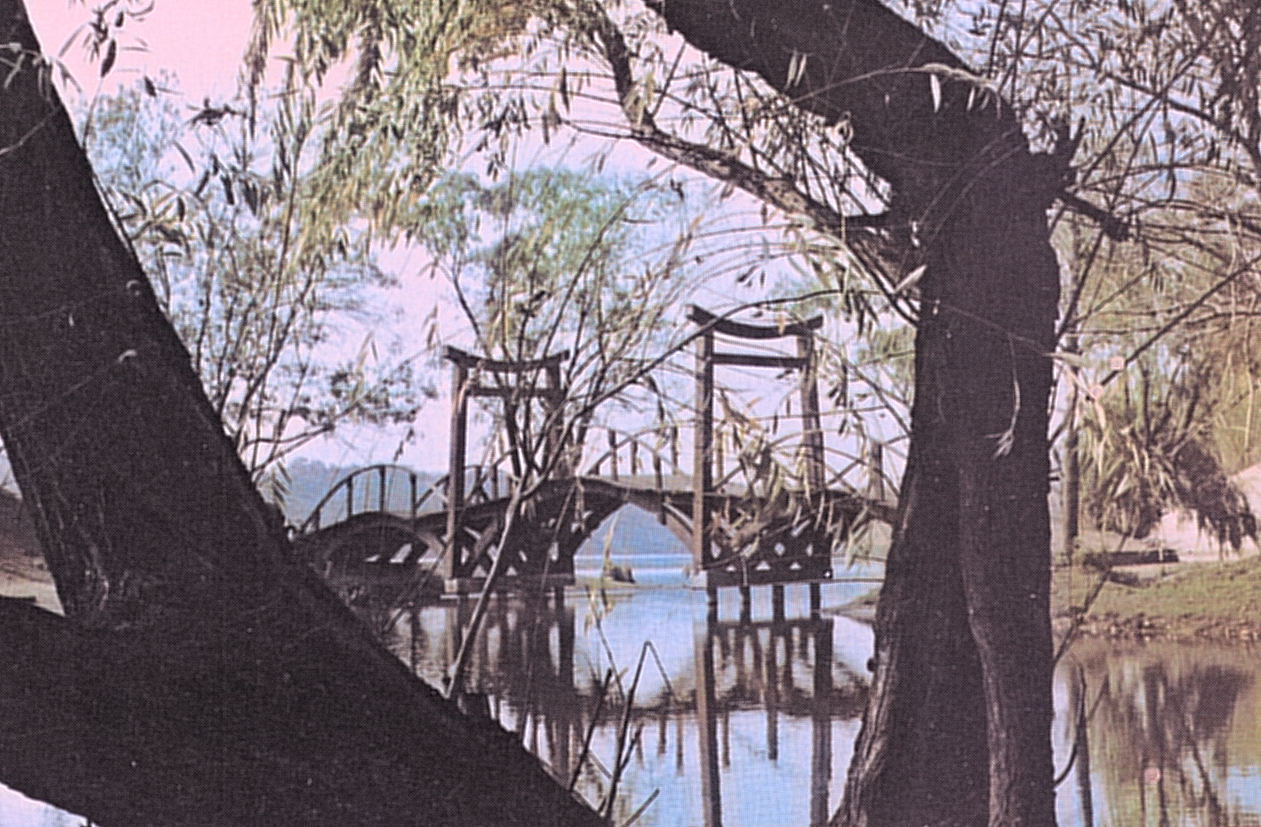 The original bridge to the island's south side lasted less than twenty years as the photo in the Gary Post-Tribune's 1956 Jubilee Edition shows. It was evidently bridgeless for a number of years until Frank and Grace Stonehill, the owners of Ishi Yama Apartments on Lake Street donated the lumber for members of the Marine Reserves to build a replacement in 1965. Company A of the 6th Engineer Battalion, operating out of the Naval Reserve building, erected what has been described as rather flimsy, home-made structure of an ornamental Japanese style, pictured here.
The handrail was bent 2x4s and was erected as a War Memorial. (Footnote: Greg Jenkins recollections and photo caption Vidette-Messenger (Valparaiso, IN) June 3, 1966; 'Stonehill' ornamental bridge picture courtesy George Rogge; Stonehill's contribution of lumber per email from George Rogge, March 3, 2020. )
Flimsy or not, the bridge lasted until about 1990 when Miller architect Greg Jenkins was commissioned to design the current bridge as a War Memorial Bridge reinterpretation of a 14th Century Shinto Shrine dedicated to Veterans of all wars. Built by three old craftsmen in a warehouse near Midway Airport with materials supplied by Randy Carr of Carr Lumber in Chicago the bridge now, in 2020, is sadly in need of some love and repair. (Footnote: Email, Greg Jenkins, AIA, March 3, 2020. ) More photos of the bridge can be seen at Greg's website.
---
The Suspension Bridge & Fishing Causeway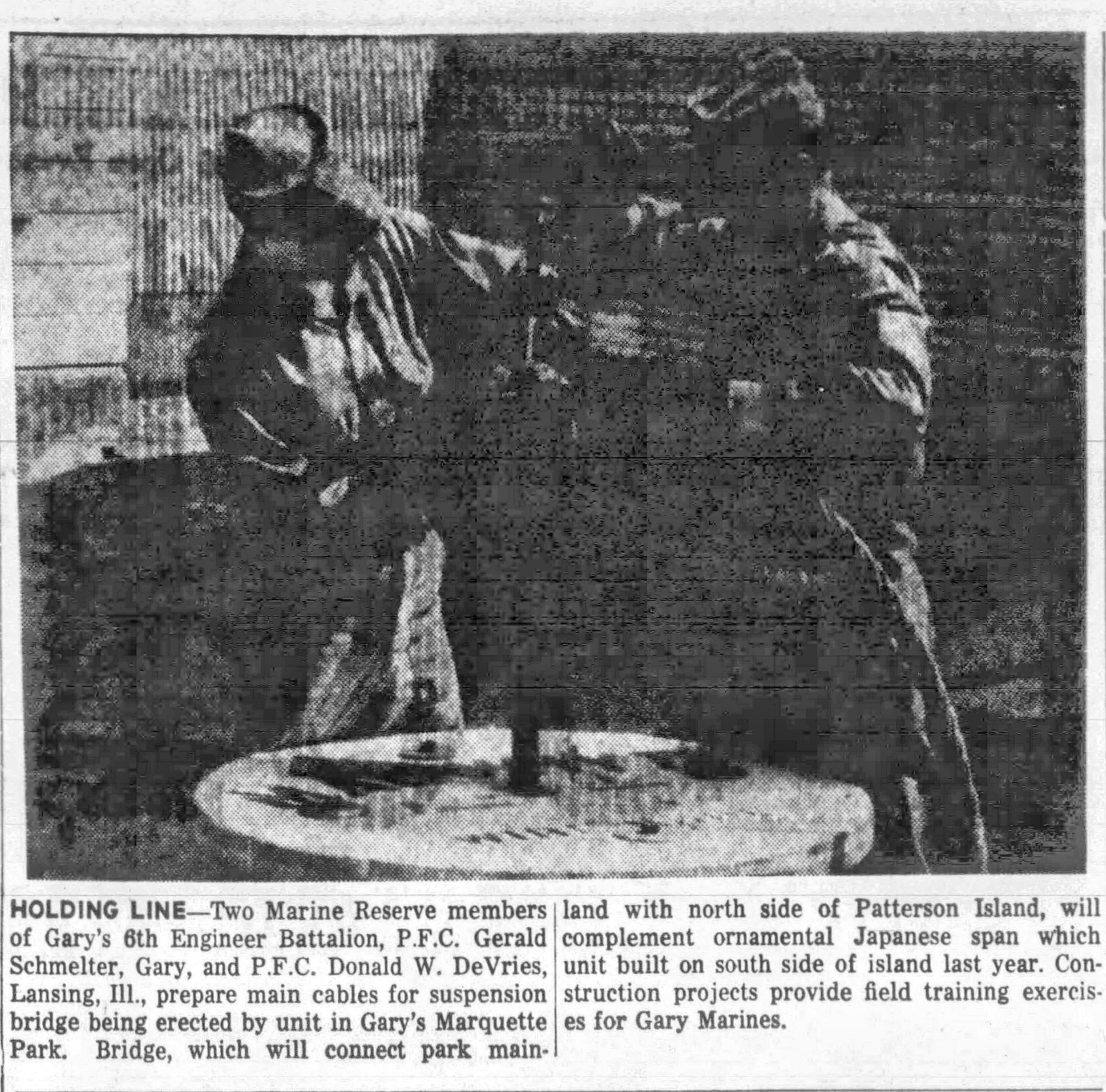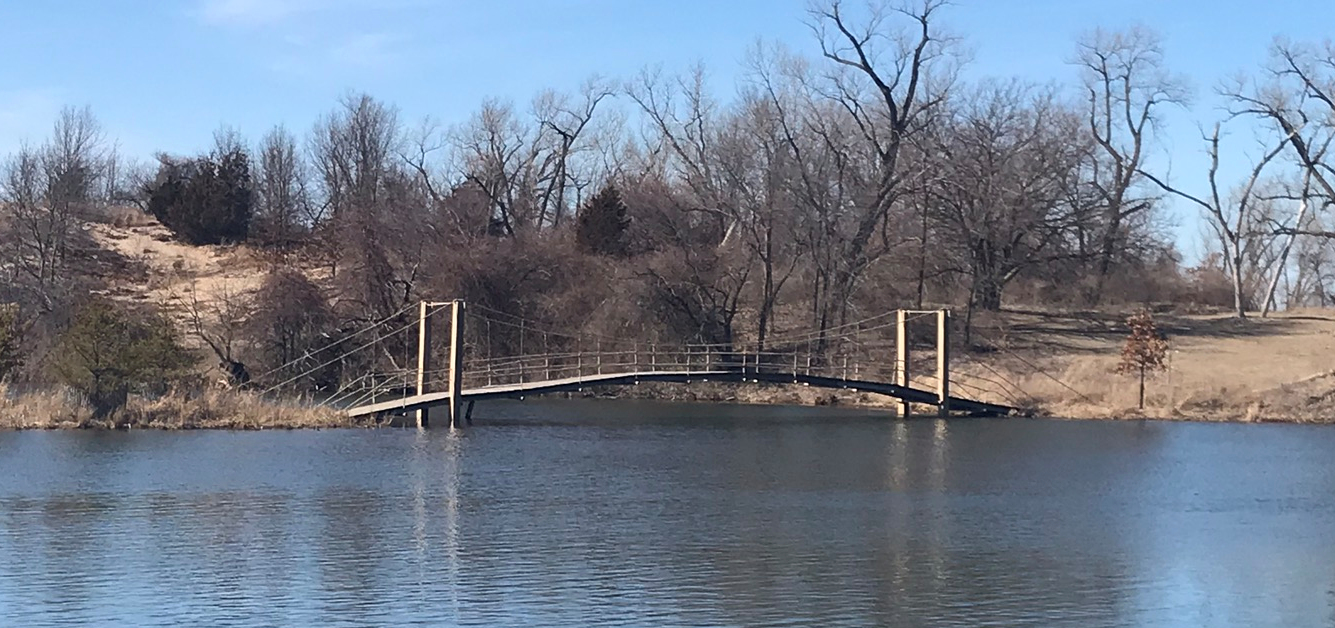 In June of 1966 the Marines built the suspension bridge as a training exercise. A little over one hundred feet long it connects the north side of the island to the mainland. Very little else is known about this bridge's origin other than what is in the caption of the picture on the left from the Valparaiso's Vidette-Messenger.
As the pre-1932 photo on the right shows, there was some sort of a bridge at this location before the suspension bridge was built. Baseball was played in the park by the Miller Eagles, members of the Lake County Baseball Association.
A concrete causeway/bridge was placed in the lagoon by Elias Construction of Gary. Never really successful, it tended to sink and/or be covered with water and was finally removed in the 2011-2013 rehabilitation of Marquette Park.
---
George Kuny and Chrysanthemums
1936 Mum Show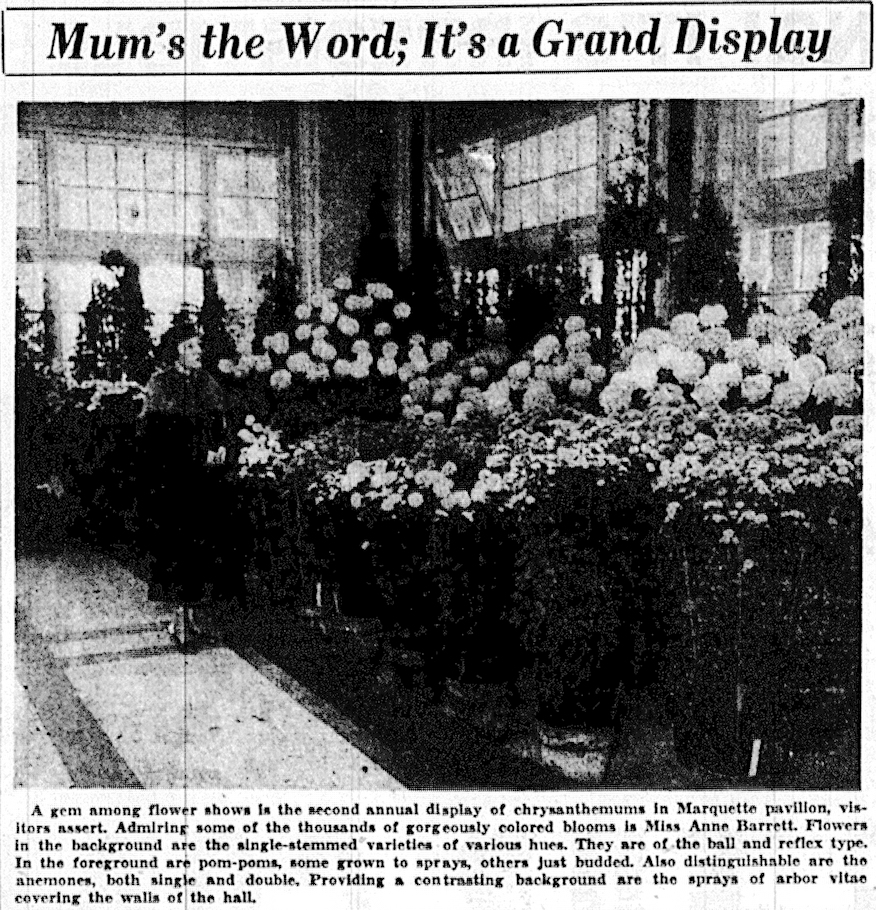 Today's island is planted with native grasses, plants, and flowers. It is not known what the original plantings by George Kuny were, but Kuny had a penchant for chrysanthemums and held a flower show for over 20 years, first at the Pavilion, and then in the greenhouses in Gleason Park where he played at his hobby which was his job. The photo and caption on the left is from the Gary Post-Tribune of November 9, 1936. It, like the one on the right from the 1939 paper, were captured from microfilm and were cleaned up as best I could.
Kuny Elementary school at 5050 Vermont in Gary was built within a few years of his death in 1957, closing in 2009. A graduate of the University of Illinois, he came to Gary after working on the Henry Ford estate in Dearborn, Michigan for seven years. Hired under the administration of Mayor Floyd William, he directed the landscaping of Gateway Park, Marquette Park, and a number of other parks in the City. His helpmate, Geraldine, who he married in 1947, was also employed by the Park Department drawing designs but taught Art at various Gary schools for over 40 years.
Memorials for both of them are at Find-a-Grave which has their published obituaries. Click on their picture to go to the memorial in a new tab or window.
1939 Mum Show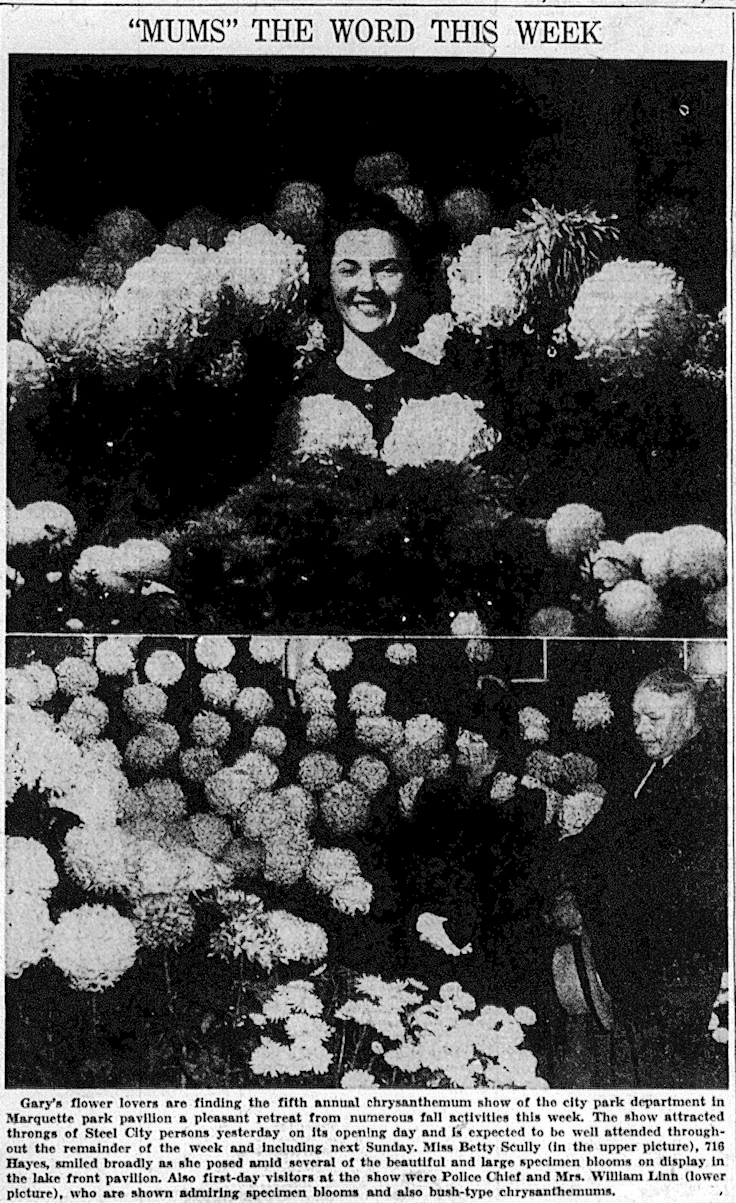 More on Geraldine (née Markwalder) Kuny: A graduate of the Fort Wayne Art Institute, awarded scholarships to Harvard University and the Chicago School of Floral Design, Geraldine was an accomplished artist in her own right. A former colleague, remembering her in 2020 wrote, "In the classroom she was fair, FIRM, and consistent. In the elementary school (I knew her when we both taught at Melton School) she taught art concepts which were then used in the amazing art works her students produced. The most amazing projects were the mosaics the 6th graders created." As the obituary notes, she was also a puppeteer. Together with a close friend they formed the "Yankee Doodle Puppeteers" who performed at nursing homes throughout Lake County.
---
Additionally:
1) Some of the information on this page is from the memories of folks who grew up in Miller. Not surprisingly, there seems to be little to be gleaned from the newspapers about Patterson Island and its bridges. If you have any memories, or additional information to share, please contact me at steve@spicerweb.org
2)The field reports from WPA projects are on nearly eleven thousand rolls of microfilm at the National Archives, 246 rolls for the State of Indiana alone. While it's a long shot, I've requested information on how to acquire those reports and if successful, this page will be updated with any useful or interesting information they might contain.
3) Thanks to Greg Jenkins, George Rogge, Steve McShane at the Calumet Archives, and Gene Ayers for their contributions to this page.
4) Thanks to George Rogge for the picture of the "Stonehill Bridge." The photo is on a 4x6 postcard which is titled on the back "View of Bridge at Marquette Park" with "Photo by Vic Napinski" with no date.
---
Page created March, 2020
© Text copyright: Steve Spicer
Feel free to email me: steve@spicerweb.org